The Irish Government has, as of April 12th 2021, opened up applications for a New Grant known as 'The Outdoor Dining Enhancement Scheme'. To encourage the expansion of outdoor dining facilities post-Covid, the government launched this grant is to assist business owners in the Food and Hospitality sector in the purchase of outdoor patio, veranda, bar stools and beer garden furniture.
Individual applicants will be able to apply for a grant that allows 75% of inventory purchased, and this will be capped at €4000. The Grant will cover inventory purchased between April 1st 2021 and September 20th 2021. One of the products covered under the grant scheme is the seemingly humble but actually pivotal to effective layout item of furniture known as the Bar Stool. This tall seat may be referred to as a bar stool or bar seat today. However, did you know that, prior to Prohibition in 1920s America, bars and saloons did not have seats at the bar? Such stools were a feature confined to food halls and cafes. During prohibition, speakeasies would disguise themselves by placing such tall seats next to the bar. After Prohibition was repealed, the tall stools had become so popular with the clientele they stayed.
Today, the Bar Set is a ubiquitous feature in eateries, cafes, bars and lounges. Outdoor Living Ireland's selection of Bar Stools and Bar Height Patio Chairs look great as part of one's Outdoor Dining Facilities, be they extra seating to be placed alongside partition-mounted counters to help utilise as much room as possible, as part of a stool and table set or placed next to the outdoor beer garden serving bars that will increasingly become the norm post-Covid.
---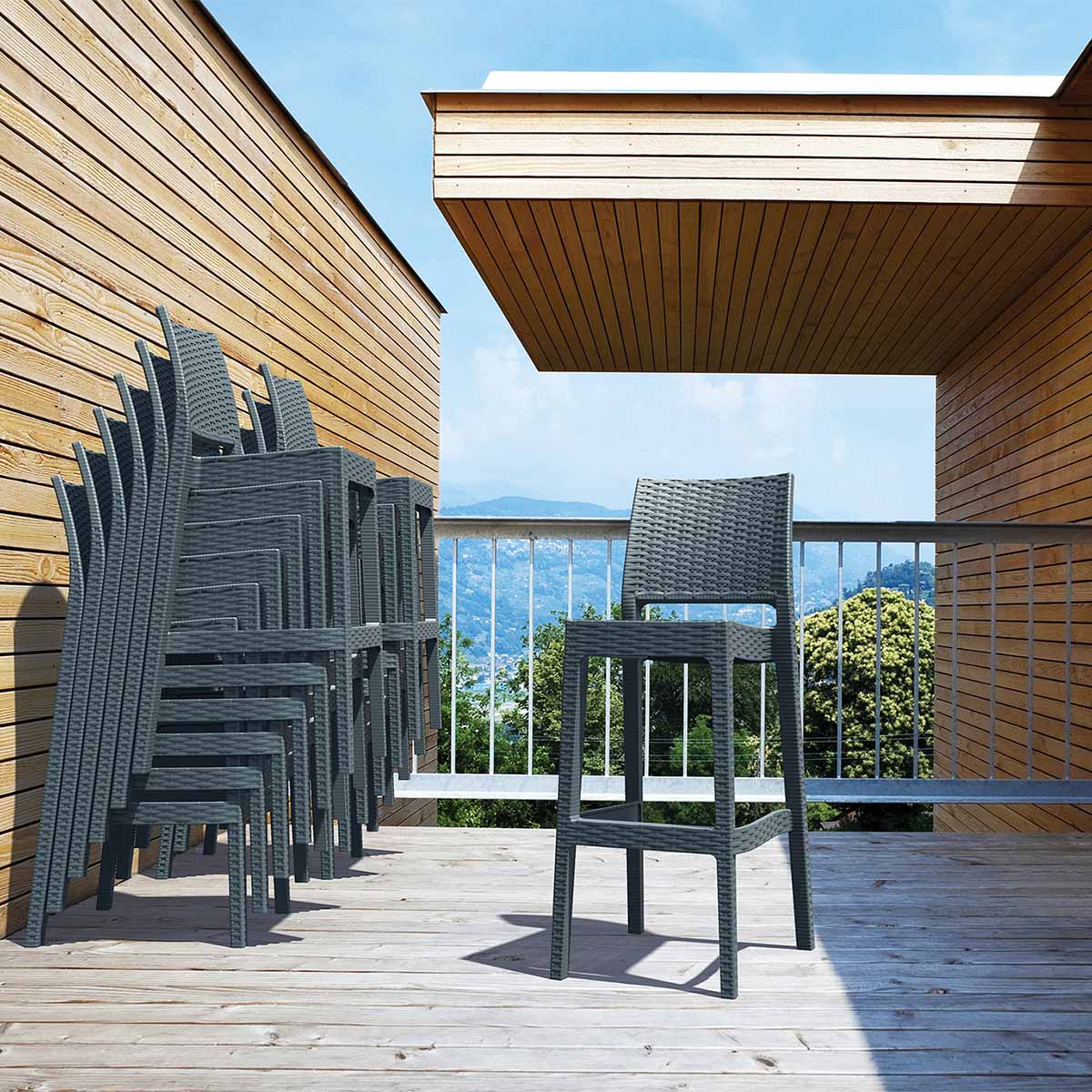 Jamaica Bar Stool - Dark Grey
Jamaica bar stool is stackable and made of durable weather-resistant resin reinforced with glass fibre. Non-metallic frame will never unravel, rust or decay. It is UV protected which insures the colours will not fade. For indoor and outdoor use.
Special Price
€99.95
Regular Price
€150.00
---
Outdoor Living Ireland's Outdoor Patio Bar Sets are produced using only the most cutting-edge and robust materials, from Quick Dry Foam cushion sets with aluminium frames to single injection polypropylene glass fibre. SIESTA BAR STOOLS Outdoor Living Ireland's catalogue include the high-end Siesta range. Siesta are a company renowned not just for Bar Table and Chair Sets that lead the way both in terms of style and design, but for also innovating in cutting-edge innovation in moulding resins and polypropylenes.
Their range of Outdoor Dining Furniture stand out for the reputable robust products highly-regarded for their longevity. Siesta's catalogue of bar stools includes the following; Air, Cross and Jamaica. The Air bar stool is especially comfortable for those that may be not as partial to bar-stool as they would be to lower chairs. A rattan weave back and seating base, with the latter boasting a very pronounced concave, ensures maximum comfort. Air bar stools also come in a range of colours; as well as the subdued grey, white and taupe, Air bar stools are also available in green and orange. The latter colours are quite clever choices in directing customers towards the partition adjoining bar-stools. This ensures that visitors to one's bar and café outdoor terraces are encouraged to utilise economic use of space. The Jamaica bar stool is very similar to the Air, albeit with a much tighter and closer flat rattan weave back and seating support. Available in dark grey and chocolate brown.
---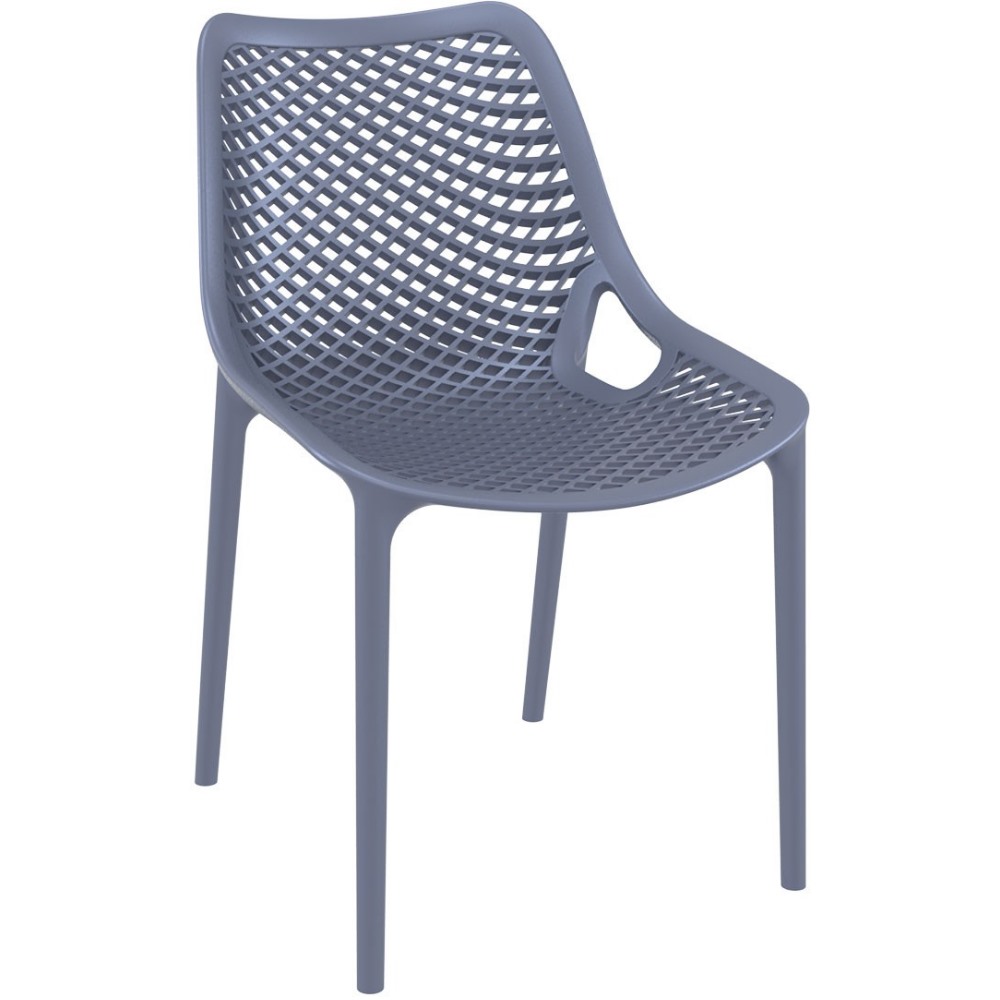 Air Commercial Chair
Air chair is produced with a single injection of polypropylene reinforced with glass fibre obtained by means of the latest generation of air moulding technology with neutral tones. For indoor and outdoor use.
Special Price
€69.95
Regular Price
€79.95
---
The Cross bar stool does what is says in its description; in place of a rattan weave support, it holds an X-shaped cross bar support. The seating base is a single polypropylene support mould, again with a concave curve. Colours are grey and taupe. The Siesta range of Outdoor Dining Bar Stools are all stackable, an especially important factor for bar, café and restaurant owners.
SIESTA BAR TABLES Siesta offer both the Sky Bar Table and Riva Bar Table as part of their outdoor commercial collection. Sky Bar Tables are foldable, and made with the same durable glass-reinforced resins found throughout all of Siesta's catalogue. Available in Grey and Taupe, and purchasable with the Air Bar and Cross Bar chairs as part of a set. Riva Bar Tables are more subtly minimalist in finish. The Werzalit UV-protected top is supported by a single rattan-weave splayed leg, itself again reinforced by a squ7are aluminium base. Coming in at a very stable 20kg in weight, the Riva Bar Table will ensure a firm and steady addition to the outdoor fronts of any café bar. Currently available with the Jamaica bar stools as part of a given set.
---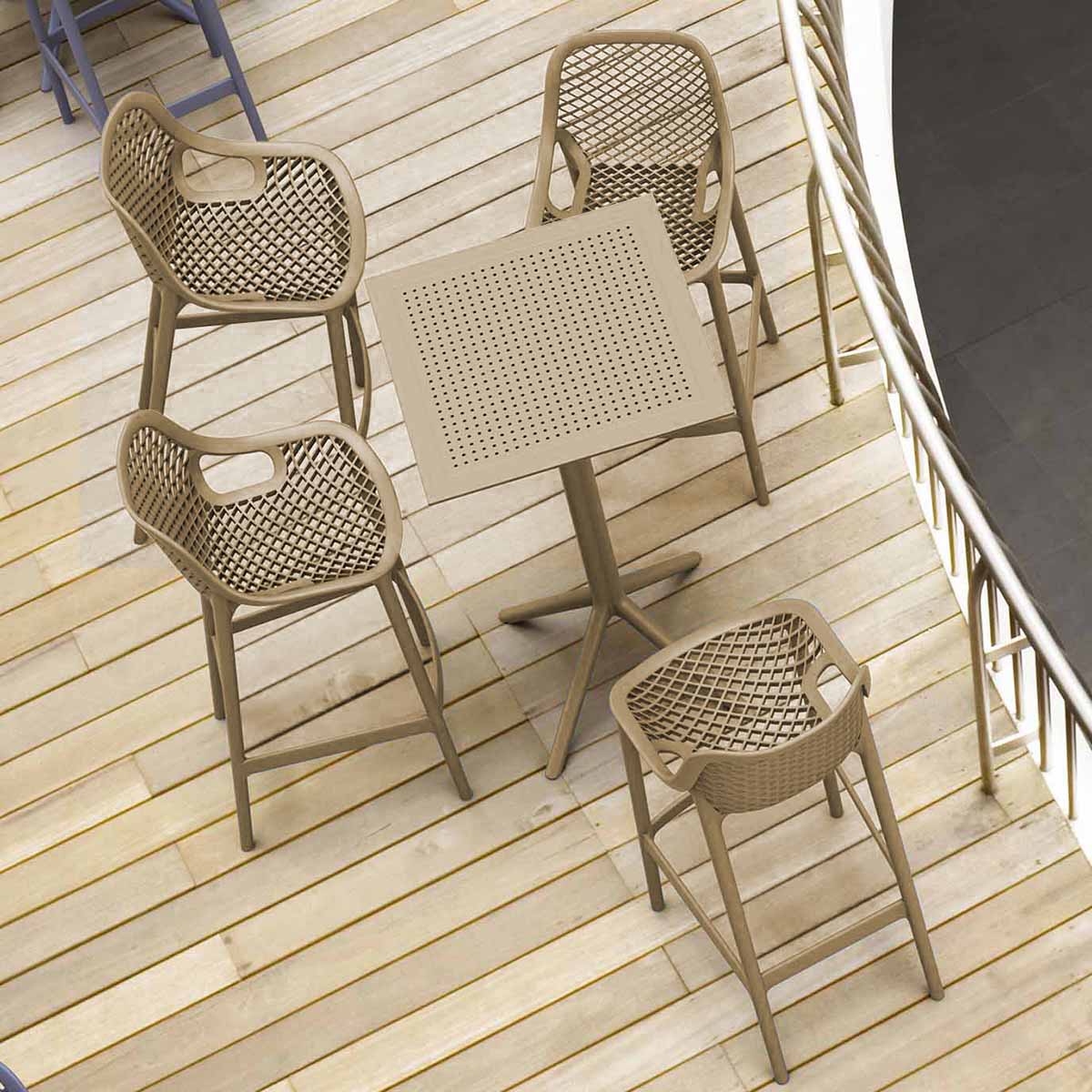 4 Air Bar Chairs and Sky Bar Table Set
4 Air Bar Chairs and Sky Bar Table Set in Taupe or Grey. This item is available to Pre-Order and will be available from
27/04/2021
Special Price
€579.95
Regular Price
€900.00
---