The Adelaide 8 Seat Round Garden Furniture Set is the perfect set for relaxing and enjoying meals outside, with plenty of space for family and friends. With features including a built-in lazy susan to allow for extra convenience and space for a pergola, the Adelaide Set is one that can be comfortably included in the category of high-end luxury outdoor dining furniture.
Lazy Susan
With its Lazy Susan feature, this set is ideal for gathering friends and family around to enjoy meals and drinks outdoors. Made from quality half round wicker rattan and finished with its glass table top, this sets Lazy Susan is designed to last. Even fitted with an aluminum parasol hole so you can stay protected from the sun.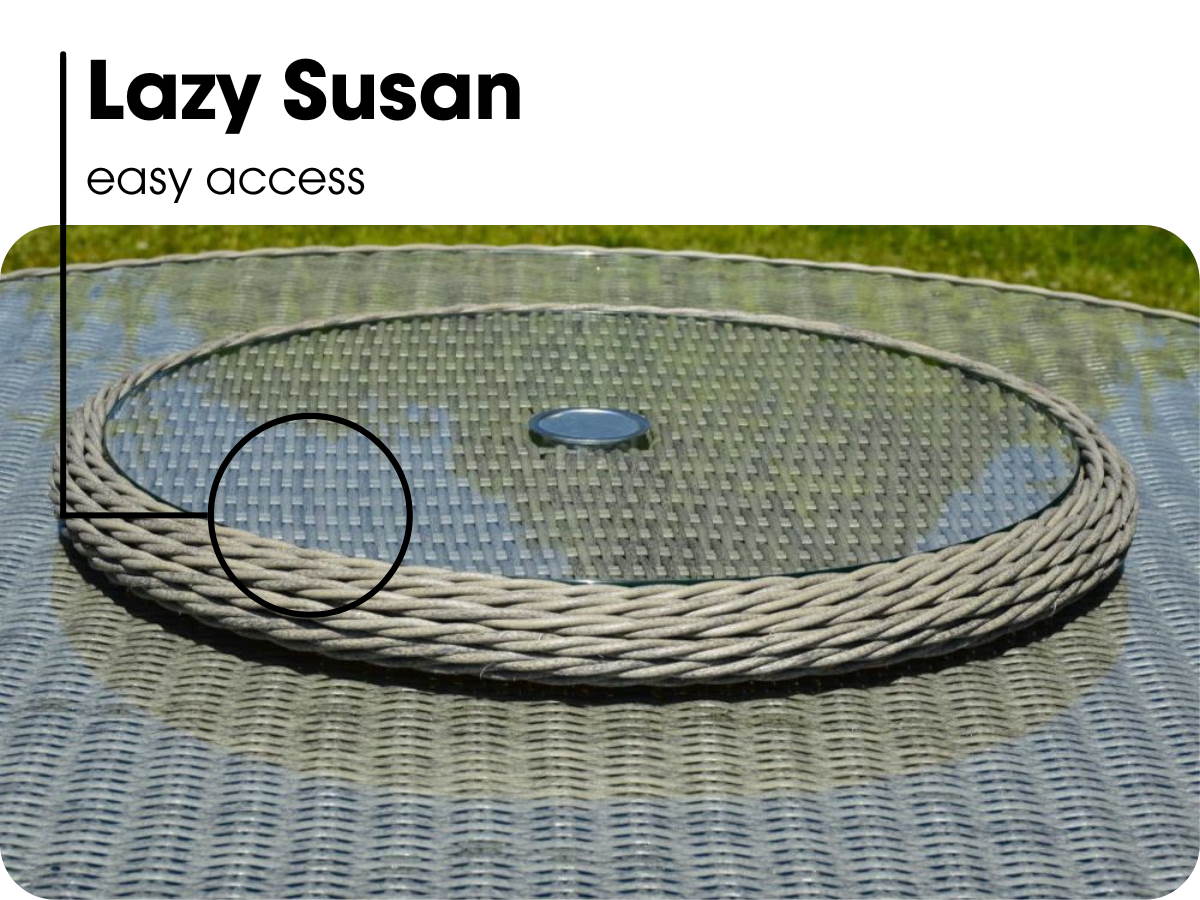 Glass Tabletop
This set is finished with a stunning glass tabletop that is suitable for placing hot or cold plates and cups on top of. The glass tabletop is stylish whilst also adding an extra layer of durability to the set as the glass protects the rattan beneath. Plus, its scratch-resistant properties make this set perfect for serving quality meals and delicacies from.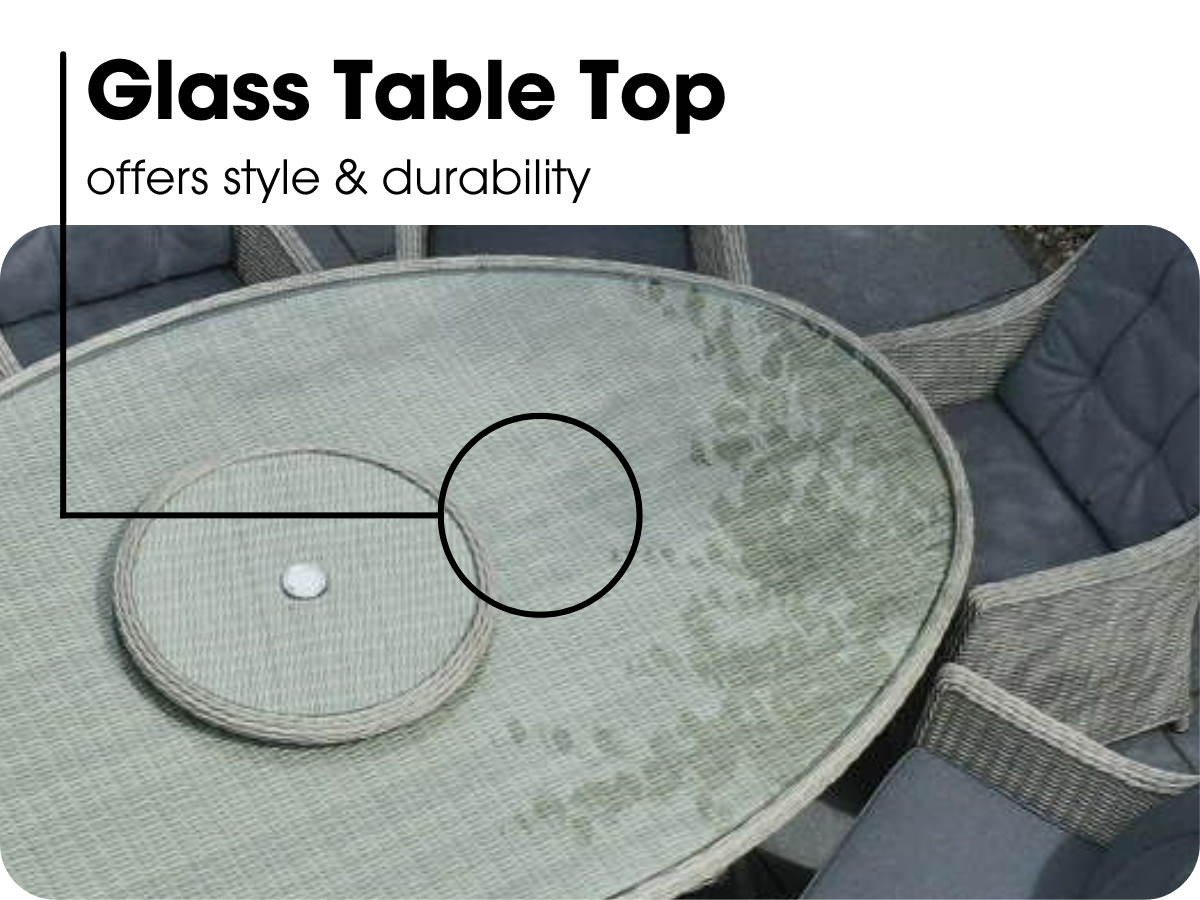 Quality Rattan
The Adelaide Furniture Set features a quality half round weave rattan. It gorgeous neutral colouring suits any outdoor space. The frame on both table and chairs is made using a flat rattan-style weave made of high-end polypropylene moulds. The rattan is designed to last as it is UV protected and weather resistant, perfect for an Irish climate.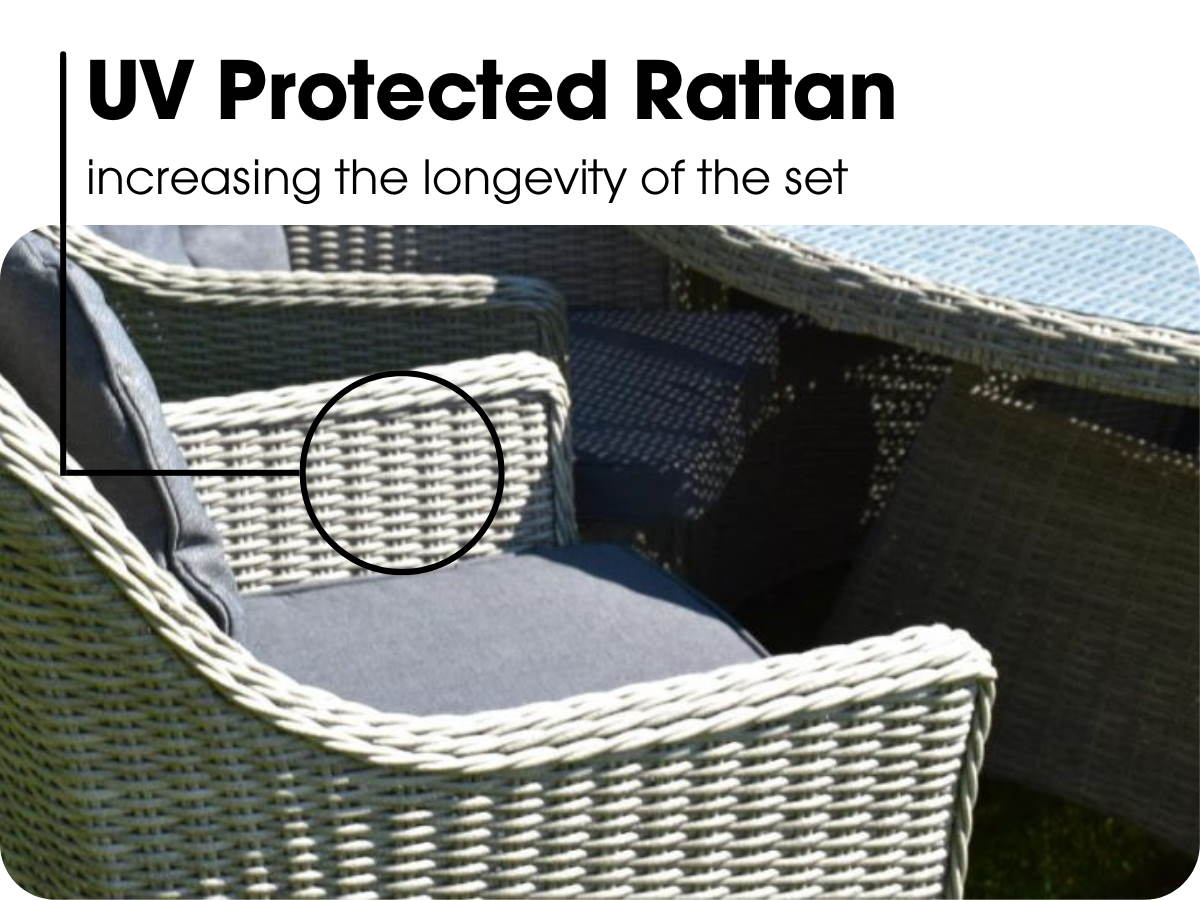 Quick Dry Cushions
The chairs are generous with their seating-depth and expertly thought out with their perfect recline and high back-support. The seats come with cushioning support that uses quick-drying textiles. Thus, these chairs, as indeed the set as a whole is tailor-made to meet the most challenging aspects of the Irish climate, and can be left out in all seasons.
The outdoor garden and patio furniture suite owners will be more than proud of to own and have as part of their garden furniture collection.
Covering your Outdoor Furniture
Take care of your furniture set by covering it throughout the winter months. In most cases you will have to reconfigure parts of the furniture to fit underneath your furniture cover. The cover can be tightened at all four corners, around furniture legs, using the toggles provided. During times of high winds, you may want to place a heavy object on top of the cover to secure it. Cover must be purchased separately.
Product Highlights Video