Introducing the Cairo 6 Seat Rectangular Rattan Dining Set with Back Cushions, a perfect blend of functionality and style for your outdoor space. This stunning set includes a rectangular table and six high back armchairs, providing ample seating for your dining needs. The timeless chocolate and beige color combination adds a contemporary touch to your outdoor area.
Parasol Ready
The Cairo Rectangular Table has a height of 75cm, a width of 90cm, and a length of 160cm, offering a spacious surface for dining and entertaining. It is designed with a parasol hole in the center, allowing you to easily add a parasol for shade on sunny days. The table also comes with an aluminum premium parasol holder, ensuring stability and support for your parasol.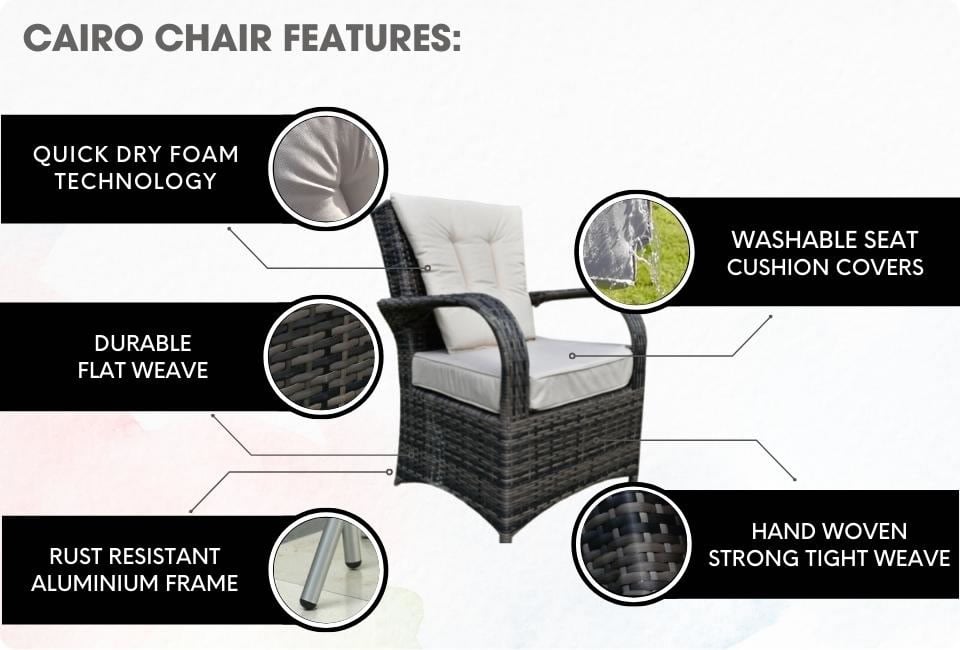 Luxury & Comfort
The Cairo Chairs in this set are designed for exceptional comfort. With a height of 91cm, a width of 61cm, and a depth of 69cm, these high back armchairs provide optimal support and relaxation. The chairs come with back cushions included, enhancing both comfort and style. The cushions are quick-drying, making them suitable for unpredictable weather conditions.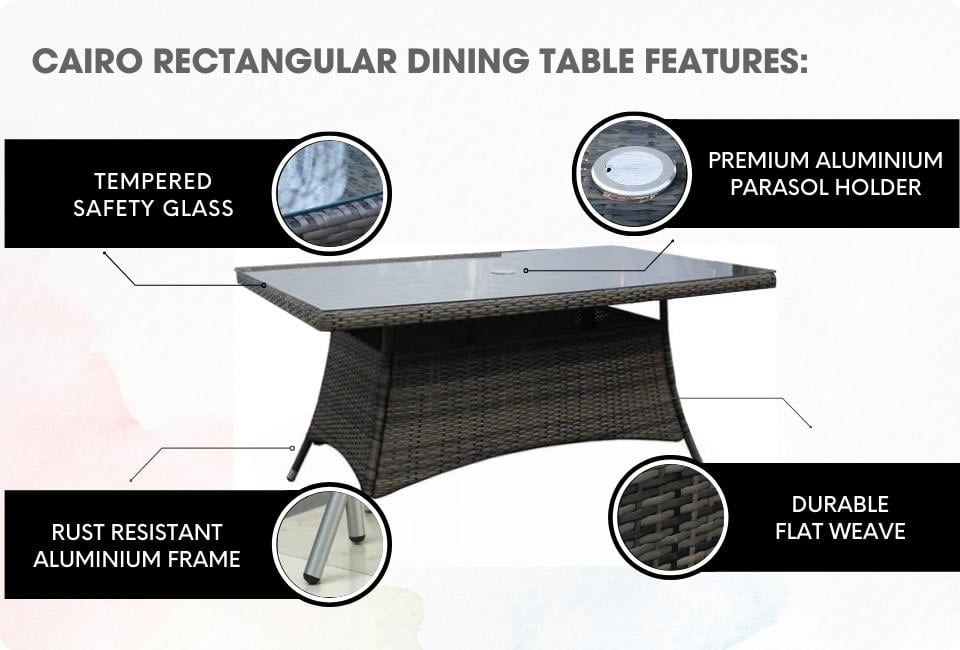 Durability & Style
Constructed from sturdy cast aluminium, the Cairo set is built to withstand the elements. The plastic rattan covering is weather-resistant and can be left outside all year round. The rattan material is made from heavy-duty plastic that is UV protected, ensuring its resistance to rain and sun exposure. To maintain its pristine condition, simply wash the set with warm soapy water. It is recommended to use a cover during the winter months to protect it from everyday dirt.
Covering your Outdoor Furniture
In most cases you will have to reconfigure parts of the furniture to fit underneath your furniture cover. The cover can be tightened at all four corners, around furniture legs, using the toggles provided. During times of high winds you may want to place a heavy object on top of the cover to secure it. Cover must be purchased separately.