The Sandringham Rattan Corner Sofa Bench Set, a magnificent outdoor furniture collection that brings comfort, elegance, and versatility to your outdoor living space. Designed to transform your garden or patio into a stylish oasis, this set is perfect for both casual relaxation and entertaining friends and family. Crafted with meticulous attention to detail, the Sandringham set combines high-quality materials, contemporary design, and exceptional functionality to create a truly inviting outdoor seating area.
Robust Aluminium Frame
The Sandringham set is meticulously crafted with a hand-woven rattan design over a robust aluminium frame, providing exceptional durability and weather resistance. This ensures that your furniture will remain in excellent condition for years to come, with minimal maintenance required. The rattan weave adds a touch of sophistication and creates a relaxed ambiance, while the sturdy frame guarantees stability and longevity even in outdoor environments.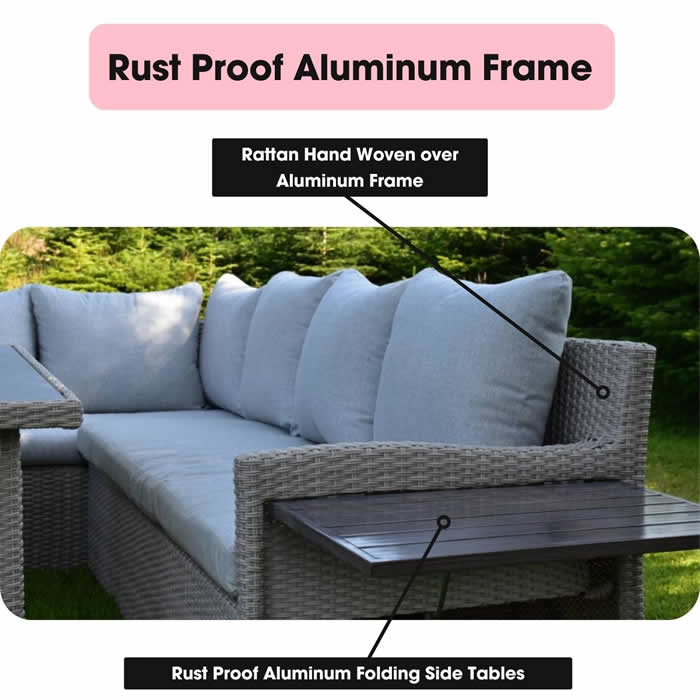 Thick Foam Cushions
The Sandringham set comes complete with high-quality cushions that offer exceptional comfort. The plush cushions are designed to provide optimal support and are filled with premium padding, allowing you to sink in and unwind. These cushions are made from durable and weather-resistant materials, ensuring they can withstand outdoor conditions without losing their shape or comfort. The cushion covers are also removable and machine washable, making maintenance a breeze.
Hand Woven Rattan
With its contemporary design, the Sandringham set effortlessly blends into various outdoor settings and complements different decor styles. The rattan weave showcases intricate details and a rich texture, enhancing the overall aesthetic appeal of your outdoor space. Whether placed in a lush garden or on a modern patio, this set adds a touch of elegance and sophistication, creating an inviting atmosphere for you and your guests.
Product Highlights Video
Check out the great features of the Sandringham Rattan Corner Sofa Bench Set
Covering your Outdoor Furniture
In most cases you will have to reconfigure parts of the furniture to fit underneath your furniture cover. The cover can be tightened at all four corners, around furniture legs, using the toggles provided. During times of high winds you may want to place a heavy object on top of the cover to secure it. Cover must be purchased separately.