The Singapore 8 Seat Teak Rectangular Set, a stunning outdoor furniture collection designed to enhance your outdoor dining and entertaining experiences. This set features a combination of sleek design, quality materials, and weather-resistant features, making it the perfect choice for those who appreciate style and durability.
Quality Aluminium Frame
Constructed with quality aluminium, this set combines durability with a modern aesthetic. The black aluminium frame adds a sleek touch to the overall design and ensures long-lasting performance. The rounded aluminium backrests are thoughtfully padded with deep-set grey cushions, creating a harmonious blend of comfort and style.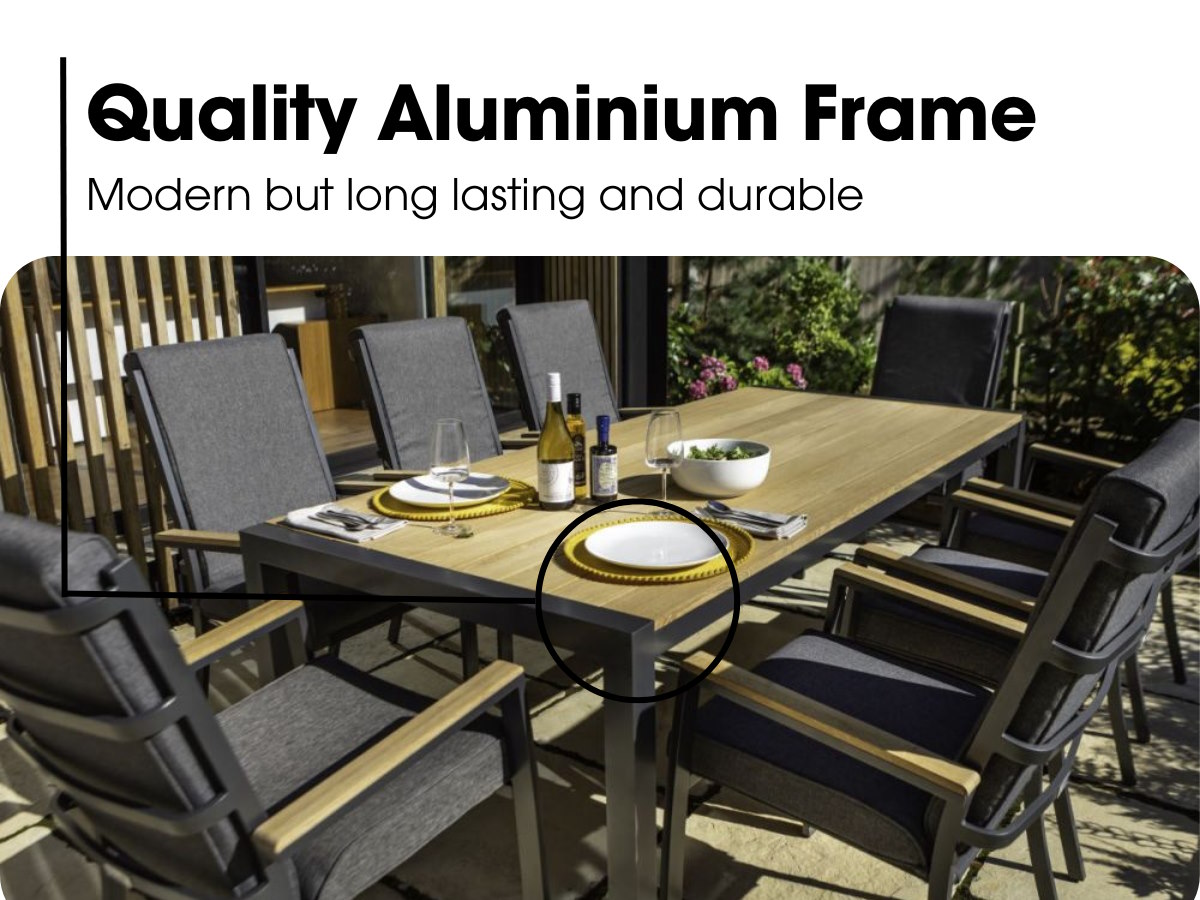 High Quality Teak Wood
The centerpiece of this set is the Singapore Rectangular Table, measuring 73cm in height, 220cm in length, and 100cm in width. Crafted from high-quality teak wood, the table exudes natural beauty and elegance. Its long wooden tabletop provides ample space for hosting gatherings and enjoying meals with family and friends.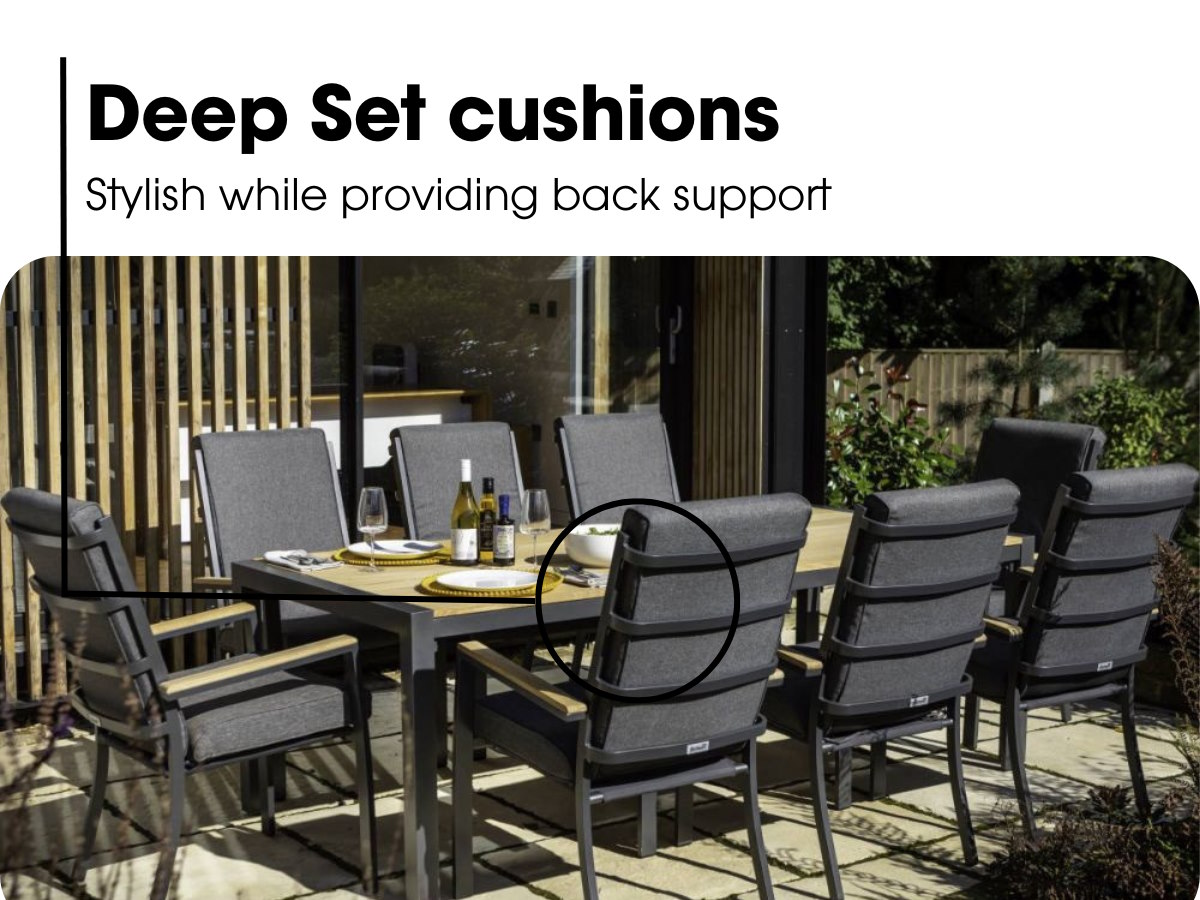 Weather Resistant Set
The Singapore Dining Chairs, 8 in total, perfectly complement the table with their contemporary design and exceptional comfort. Each chair measures 100cm in height, 60cm in width, and 71cm in depth, offering a spacious and inviting seating experience. The chairs come with seat and back cushions, providing added comfort and style. These cushions are weather-resistant, ensuring their durability even in challenging outdoor conditions. Designed to withstand the Irish climate, this set is equipped with weather-resistant features. The cushions are water repellent, allowing them to quickly dry after a rain shower. The high-quality aluminium frame is rust-resistant, providing easy maintenance and peace of mind throughout the year.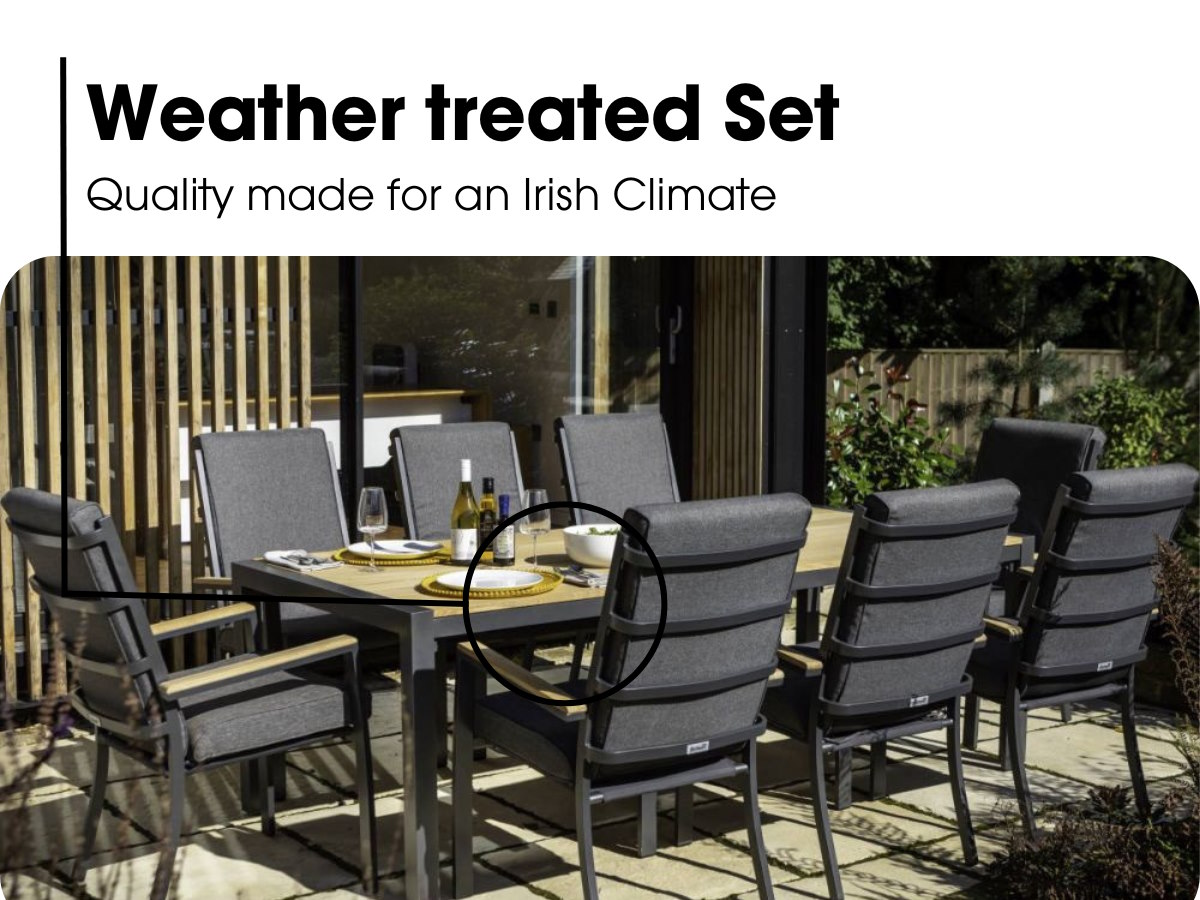 The Singapore 8 Seat Teak Rectangular Set is an exquisite addition to any outdoor space. Its combination of teak wood, aluminium, and weather-resistant cushions creates a harmonious balance of natural elements and contemporary design. Elevate your outdoor dining experience and create lasting memories with this elegant and durable set.
Covering your Outdoor Furniture
In most cases you will have to reconfigure parts of the furniture to fit underneath your furniture cover. The cover can be tightened at all four corners, around furniture legs, using the toggles provided. During times of high winds you may want to place a heavy object on top of the cover to secure it. Cover must be purchased separately.